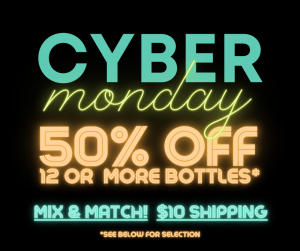 Cyber Monday Happening Now!
MIX & MATCH.
50% OFF ON 12 OR MORE BOTTLES.
$10 SHIPPING.
OR PICK UP AT WINERY.
See discounts once 12 bottles added to cart. Access at link below or Byington.wine then scroll down.
CYBER MONDAY WINES
2012 Alliage Cabernet Sauvignon (Library Wine), Bates Ranch, Santa Cruz Mountains
2013 Petite Sirah, Smith Vineyard, Dry Creek Valley
2014 Blanc, California Table Wine
2014 Sangiovese, Cedar Creek Ranch, Amador County
2014 Syrah, Pigoni Ranch, Alexander Valley
2014 Zinfandel, Carreras Vineyard, Dry Creek Valley
2015 Brian's Syrah, Pigoni Ranch, Alexander Valley
2015 RHOLL Cabernet Sauvignon, Tin Cross, Alexander Valley
2016 Derek's Durif Petite Sirah, Petersen Vineyard, Contra Costa County
TAKE ADVANTAGE OF THESE AMAZING PRICES ON WONDERFUL WINES
$10 shipping or pick up at Winery (no pick ups at Los Altos Tasting Room). No pre-orders. No onsite purchases. NO OTHER DISCOUNTS APPLY.
If picking up online order at Winery (ready next weekend), must pick up by the end of December. Otherwise, wines will be shipped, and rates will apply.
* We ship to to AZ, CA, CO, FL, ID, IL, MA, MI, MT, NM, NY, NC, TX, VA, WA, and WY.